Steve Raible
Steve Raible • Written May 2014

Recognized as one of the premier news anchors in the Pacific Northwest, Steve Raible co-anchors KIRO 7 Eyewitness News at 5 p.m. and 11 p.m. Monday through Friday alongside Angela Russell and chief meteorologist Sam Argier.
Steve was honored as the 2010 Silver Circle Inductee by the Northwest Chapter of the National Academy of Television Arts & Sciences. See video honoring Steve | See Steve's acceptance speech.
Steve has been awarded five Regional Emmy Awards, including two for "Best Anchor" and twice was a KIRO 7 Eyewitness News team recipient of the National Edward R. Murrow Award for Overall Excellence. He was also honored nationally as part of the KIRO 7 Eyewitness News team with the Columbia University-Alfred I. duPont Award for overall excellence in television broadcasting for the groundbreaking documentary Why the Orcas of Puget Sound are Dying.
Steve joined KIRO 7 in 1982, following a six-year career as a wide receiver for the Seattle Seahawks. He has reported stories from Tokyo to Moscow and has covered Olympic Games and presidential campaigns.
Steve is the voice of KIRO 7's extensive Seafair hydroplane and air show coverage. For nearly three decades he's been a member of the Seattle Seahawks radio broadcast team, taking over the play-by-play duties in 2004.
He became a published co-author in 2004 with his book, Steve Raible's Tales from the Seahawks Sidelines.
Steve is one of the Northwest's favorite master of ceremonies and dedicates his time and talents to support many agencies including Big Brothers Big Sisters, Children's Home Society of Washington, Fred Hutchinson Cancer Research Center, Gilda's Club Seattle, The Lupus Foundation, The Moyer Foundation, Seattle Children's, Wellspring Family Services and other Seattle-area non-profit organizations. On May 4, 2005, Steve was the recipient of the first Community Hero Award from the Washington Dollars for Scholars program. Governor Christine Gregoire also proclaimed May 4 as Steve Raible Day in the state of Washington.
In 2004, Steve and his wife Sharon received the Distinguished Community Service Award from the Grace Heffernan Arnold Guild of Fred Hutchinson Cancer Research Center. In 2007, Steve and Sharon were honored by the Center for their many years of support and service. He has twice been honored with the United Way Community Service Award for his dedication to the Pacific Northwest. In 2000, he was named Outstanding Role Model by Big Brothers Big Sisters and is the 2001 recipient of the prestigious NCAA Silver Anniversary Award.
Steve and Sharon live in Seattle and he spends his leisure time tending to their menagerie of pets.
Pub. Note: What better Commentary than an entire book devoted to inside stories on Steve Raible's career at a Seattle Seahawk, before beginning a 35-year career as a television anchor. Here's the description on the web for Tales from the Seattle Seahawks Sideline, available through both Barnes & Noble and Amazon: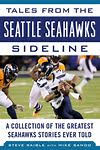 From the hilarious to the surreal, from inside the huddle to inside the broadcast booth, twenty-eight-year Seattle Seahawks veteran Steve Raible takes fans to places they never knew existed. In this newly revised edition of Tales from the Seattle Seahawks Sideline, fans are offered an inside look at life in the locker room and on the sidelines of one of the NFL's most beloved franchises. Readers will have the chance to laugh along as Jack Patera trades Andre Hines to the Dolphins after warning Don Shula that a worse offensive lineman never existed, to marvel as Raiders legend John Matuszak becomes Seattle's offensive coordinator during the final minutes of the Seahawks' blowout win, to come along with Steve Largent as the Hall of Famer obliterates Broncos safety Mike Harden in the ultimate payback, and so much more. This book brings all the Seahawks' greatest players to life from Jim Zorn, to Dave Krieg, Kenny Easley, Curt Warner, Brian Bosworth, Cortez Kennedy, Warren Moon, Mike Holmgren, Ricky Watters, Chad Brown, Shaun Alexander, and more. This insider's account also explores the lesser known characters whose stories inspire laughter, tears, and lasting lessons. Tales from the Seattle Seahawks Sideline is all about the people, proving through vivid anecdotes why the Seahawks are one of the most storied franchises in today's NFL.
---