Pat O'Day
Pat O'Day • Written May 2009 • Died August 2020
At radio station KJR-AM in Seattle, Pat O'Day was the leading disc jockey in the Northwest in the '60s and '70s and his station was one of the greatest in Top-40 radio history. There he influenced the musical tastes of an entire generation of teenagers (and their parents)—on-air with his wit, off-air with his ground-breaking work in the field of concerts and dances. Concerts West, a company he founded, developed into the largest concert-promotion firm in the world. It introduced a series of dramatic innovations that helped revolutionize the concert industry. Today, O'Day heads a real estate firm on San Juan Island in Washington State. He recently released the second printing of his autobiography, It Was All Just Rock 'n' Roll II.
One of the secrets to success in business is the promotion of your product beyond just the purchase of Radio, TV, Newspaper, Magazine, and Online advertising. Devising stunts, ideas, customer involvement, enjoyable promotions can accomplish, what normal advertising cannot! This is acutely true in the competitive world of radio broadcasting.
It really all started when radio was replaced by television, then found the secrets to re-birth by being a 24 hour music and news source. Those were still days of frugality for radio stations and imagination was required, as money wasn't available, to gain new listeners, while holding onto your existing audience. Additionally, newspapers rarely reached a stations target audience, and to promote, on your own station, was free from a standpoint of cost of airtime.
Promotions also became the catalyst for radio sales teams as stations were able to offer something traditional media never comprehended. Customer involvement! The term, "Selling ideas and results" became the mantra for so many radio sales forces, especially with the direct clients seeking ways to distinguish themselves from their competition. (Also often called, "Additional value selling!") These two developments of the 60's and 70's left impressions with listeners that are clearly recalled today while packing stores, increasing listening audiences, and generally creating a bond between the consumer and the promoter. Lets now take a look back at a few memorable promotions and see if there's something there that applies today's marketing challenges.
The Ford Motor Company, under the direction of Lee Iacoca, introduces the fastback Ford Mustang. He knows he had a car designed for the under 40 set. He knows that Radio and TV commercials will be needed, but he want some extra momentum. He want personal endorsements from key personalities in every market. What does he do? He flew the top eight Deejays from the top 40 markets, to Detroit. There, with great flare including a theatrical night with the Supremes, the new Thunderbird driven onstage as a bonus, he unveiled their new Mustang.
The following morning, the radio personalities were taken to the test track where two dozen of this hot new line were turned over to the guests to go out onto the track and simply drive the hell out of them. Everyone took turns, racing, or in the infield, spinning them out, what ever your urges.
Upon returning to your home town airport that Sunday afternoon, another new Mustang awaited you, for your personal use, for 30 days.
The commercials purchased by J. Walter Thompson, Fords Ad Agency were to be ad-lib commercials up to the final 10 seconds, from the radio people, talking about their wonderful trip and their new Mustang. The final 10 seconds was simply an urge to get to your Ford Dealers, to see and test drive the new Mustang for yourself! Needless to say, the Ford Mustang Fastback got off to a sensational sales start and the momentum for the Mustang can be felt today, some 40 years later.
Later, a Seattle station created even further Mustang Fever by staging a "Mustang Hunt!" The keys to a new Mustang were hidden somewhere in the Seattle area, and when someone found them, a new Mustang was then theirs. Naturally, to participate in the hunt, you were required to go to your nearby Ford Dealers and get your Mustang Hunting License, thus forcing floor traffic for the Dealers. Clues were then given daily on a radio station, and the emotion intensified as it became obvious as to the area where the keys were likely hidden. The final day of the hunt, when the most revealing clue was given, there was a massive traffic jam throughout that area of the county. Yes, there was but one winner, however, everyone was rewarded for their efforts as your Mustang Hunting License gave you a big discount on burgers for a week with a fast food chain. This Is Great Promotion!!! (Oh yes, the fast food chain was also required to buy a schedule.)
"Well" one might ask, lets talk about smaller businesses and how the consumers might have been involved. How about the (Retailers name) Fashion Club. A store specializing in young women's apparel establishes, through the radio commercials, the club. Naturally, you sign up for membership at the store. Your club card qualifies you to win music, concert tickets, merchandise prizes, with a grand prize of a week long trip to Hollywood where stars, sights, and sounds, will be the experience. (Along with a short video of yourself taken during the trip.) This promotion worked annually, the store was established as The Place, and radio enjoyed the spot buys in support of the entire promotion. Win, Win, win!
In the early 70's the Seattle National Boat Show was suffering from attendance lags, especially mid week during it's 10 day run. A radio station solved the problem. One of it's management level people came up with the idea while traveling on a boat in Alaska. Here it is!
Promos came on the air, two week prior to the opening of the Boat Show that went as follows:
100,000 YEARS AGO, A SNOWFLAKE FELL. IT FELL INTO AN REGION NOW KNOWN AS ALASKA! WHAT WAS OUR WORLD LIKE 100,000 YEARS AGO? DID MANKIND EVEN EXIST? YET, FOR THE PAST 100,000 YEARS THAT VERY SNOWFLAKE AS WATCHED AS HISTORY UNFOLDS. THAT VERY SNOWFLAKE HAS BEEN RESTING FOR 100,000 YEARS WITHING THE MIGHTY MENDENHALL GLACIER JUST OUTSIDE JUNEAU ALASKA BUT HAS BEEN INCHING IT WAY, SLOWLY TOWARD THE FACE OF THAT MIGHT GLACIER. LADIES AND GENTLEMAN, AFTER 100,000 YEARS, IT HAS ARRIVED!
NEXT WEEK, KJR'S OWN EMPEROR SMITH, WILL TRAVEL ON ALASKA AIRLINES TO JUNEAU AND TO THE FACE OF THAT MIGHT GLACIER AND WILL, WITH CHAIN SAWS, REMOVE TWO TONS OF ICE THAT CONTAIN THAT VERY SNOWFLAKE. IT WILL BE FLOWN TO SEATTLE, WHERE IT WILL BE DISPLAYED AT THE SEATTLE NATIONAL BOAT SHOW FOR ALL TO SEE, TOUCH, AND EXPERIENCE, 100,000 YEARS OF HISTORY. LITTLE DID THAT LONELY LITTLE SNOWFLAKE KNOW, IT WOULD ITSELF MAKE HISTORY AS SEATTLE, FOR THE FIRST TIME, CAN EXAMINE THIS ICE, HARDENED BY YEARS OF COMPACTION, REFUSING TO MELT DUE THE ALL OXYGEN BEING FORCED FROM IT BY MILLIONS OF TONS ON PRESSURE. GLIMMORING ON A PURPLE CARPET, AND LOOKING LIKE A MASSIVE DIAMOND, YOU MUST BRING YOUR FAMILY TO SEE IT! THE SEATTLE NATIONAL BOAT SHOW OPENS SUNDAY JANUARY 20TH AT THE SEATTLE CENTER COLISEUM. CHILDREN ALWAYS HALF PRICE!
New Attendance records were set!
So, what did they do the next year?
In a radio station sales and thinking session, it was pointed out that in Acapulco Mexico, giant crowds gather to watch the famous cliff divers and their death defying headlong plunge from 200 feet up. They do this into rather shallow water by pointing their hands just right a point of entry, thus only required eight feet of depth. The roof of the Coliseum is only 120 feet up. Why wouldn't it work? And work it did!
A pool was built. Ten feet in depth, fifteen feet in width, and twenty four feet in length. The sides, to withstand the pressure at entry were made of 8X8 timbers, and the inside lined with plastic. A tiny platform was suspended from the roof of the Coliseum, and Boat Show crowds, setting even new records, watched twice daily as Raul Garcia launched from the ceiling, through the air, and into the pool. Needless to say, the radio commercial supporting this feature were dramatic, as was the dive itself. Even more dramatic from a sales point of view, was the huge budget from the Boat Show the radio station enjoyed!
Let's now talk about how these radio stations can gain a great new, enlarged listening audience through promotions. One has to simply dial across the radio band to discover how mundane this essential element of broadcasting has become.
I recall when a radio station would give away an important and appealing piece of music every hour. I remember when stations have away cash every hour. Get this! I once ran an important Seattle station and gave away, to an entire student body, tickets to see Elton John. Sure it was expensive, but the reward was a move from an eight share to a twelve share on the next Arbitron. How did that contest work? Every hour, 24 hours a day, a special sound effect went off. Then, the first caller could score a point for their school. The Schools were handicapped according to the size of their student body so everyone had an equal chance. Naturally, the students recruited parents, friends, neighbors, to help their school win. This required listening! Intent listening! And was as exciting for the participants as any Final Four! Pretty straight ahead, huh?
How about the New Car Garage contest. Listeners could register by mail or by phone. (Pre email was this event.) Listeners would report what three hours each day they would be listening, because, they would only be called during those hours. On the air, you heard the KJR New Car Garage door open. The deejay would announce the car inside as follow. Cont.
"Ladies and Gentleman. The KJR New Car Garage door is opening." (recorded ooos and awes) "There it is!  A beautiful new Chevrolet Malibu.  It's the 280 series, and the color is Cobalt Blue. We now make that phone call if Ms. James Kidmore of Kirkland says, "A new Chevrolet Malibu, 280 series, in Cobalt Blue," The car is hers. ( It should be noted that a well known Seattle Super Sonic, Slick Watts, did TV spots to promote this contest. Those spots were as creative and the contest itself.
What was achieved? Thousands promised to listen three hours a day, which they did! Ratings went through the ceiling. The talk factor in the community was astounding, and several schedules were sold to car dealers! Pretty straight ahead, huh?
One of the keys to all of this is a station where the spoken word is important. Any station who's program director limits, or constrains personality, would never effectively accomplish any of these promotions. Successful promotions have a common thread. They are fresh ideas, or at least new twists on previous ideas. They demand involvement from the public and that involvement is triggered by ideas that are fun, fresh, and fulfilling.
Limitations, concerns, research, are the moral enemies of earth shaking promotions killing the huge successes they can achieve.
There is nothing on these pages that can't be done, in some fresh new form, today. The only thing preventing their re-appearance are minds that can't expand beyond the hair that covers them!
The 'Private' Pat O'Day
By Larry Coffman
Written January 2010
I love being me," said a smiling Pat O'Day, as we sat down for a three-coffee lunch at the Washington Athletic Club. Before he became a "non-user" 23 years ago, it would have been three whiskeys, as least.
Unless you know Pat, his comment would sound boastful, coming from that seemingly omnipresent fellow who just served as Grand Marshal of the Seafair Parade, is a member of the Rock 'n' Roll Hall of Fame, founded Concerts West, was once national Radio Man of The Year and now is the voice and face of Schick Shadel Hospital. He's also currently a successful real estate broker on San Juan Island, where he built a stunning home overlooking Spieden Channel near Roche Harbor.

Pat O'Day, a member of the Rock 'n' Roll Hall of Fame, was once national Radio Man of The Year.
Most everyone in the Seattle area knows the public Pat O'Day, but few are privy to the private person who today views his celebrity as some sort of out-of-body experience. "Everywhere I go around here, complete strangers come up and pay me the nicest compliments. Many still remember things I said on the radio 40 years ago. That's very rewarding—even though I sometimes feel like they must be talking about someone else."
It's 75 years and many miles from the day in 1934 he was born Paul W. Berg in Norfolk, Nebraska (also the birthplace of Johnny Carson), the son of Paul E. Berg, a minister in the Mission Alliance Church and unwitting role model for the eldest of his three sons.
"I was still being carried in a basket when my parents took me to the radio station where dad had a weekly radio show," Pat recalls. "In 1941 we moved to Tacoma, where he also had a show on KMO radio. By the time I was seven, I knew I wanted to be on the radio. Every night I'd go into the bathroom and practice announcing into the bathtub because it made my voice resonate." Pat's distinctive, throaty voice is the product of two tips. One was from Frank Sinatra, who told him to practice staying underwater as long as possible to improve his breathing; the other was from a book that stressed speaking from the throat, rather than the mouth.
His father died of tuberculosis in 1948 and the family moved to Bremerton in 1950. He attended Olympic Community College (where he was inducted into the school's Hall of Fame)and later Tacoma Vocational, where he was student body president, a trainee on the school radio station and a part-time transit driver. He married his first wife, Joanie, in 1956.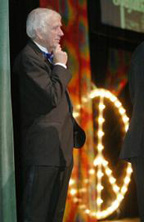 Pat O'Day being inducted into Olympic Community College Hall of Fame.
"My dream was validated," as Pat puts it, when he landed his first radio gig at KVAS in Astoria, OR, on Sept. 3, 1956. Just two years later, he found himself at KAYO in Seattle, after brief stops at KLOG in Kelso and KUTI in Yakima. In the interim, he'd also sown the first seeds of his patented "teen dances"—forerunners of his national Concerts West extravaganzas, featuring the top rock 'n' roll entertainers of the era.
The public Pat O'Day emerged in mid-December, 1959, the time of his historic move to KJR-AM. "Paul Berg was just a terrible on-air name," Pat recalls. "I got the O'Day from O'Dea High School and Pat seemed like a good fit as a first name." The subsequent and sensational 17 radio and concert years are captured in page-turning detail in the second edition of his autobiography titled "It Was All Just Rock 'n' Roll II." The format is a scattershot series of the kinds of tales master-storyteller O'Day might have spun sitting in a bar with some buddies, back in his drinking days. Each vignette is headlined with the title, artist's name and year of one of the hit songs from his halcyon period of the '60s and '70s.
One of my favorite tales concerns Pat's showdown in an Oakland, CA hotel room with a New York mafia mobster who wanted to cut into Pat's Concerts West success. He made Pat an offer he thought he couldn't refuse: Give me Jimi Hendrix on the East Coast and I'll let you continue to have him on the West Coast. Pat called his bluff by invoking the name of Sinatra, known to have powerful mafia ties, as a part owner of Concerts West—which he wasn't! (Sinatra, however, had owned KJR until 1963.)
Another tale was about the time all the gear for Bread's final concert was destroyed when the truck carrying it ran off the freeway in Arizona, fewer than 24 hours before the group was scheduled to be on stage in Salt Lake City.  Pat got on the phone, cobbled together the complex array of equipment needed for the gig from LA and San Francisco, chartered planes and—miraculously— the show went off, only an hour late, without a hitch.
Pat credits his strengths (persuasive skills and refusal to take "no" for an answer) with helping him survive an almost impossible schedule during his days as program director at KJR, when he also was doing teen dances on the side (most notably at the old Spanish Castle in Federal Way), and later with his ultra-demanding Concerts West duties, after he left KJR in 1974 to devote full time to the concert business. He also credits the fact that legendary local businessman Les Smith, his partner along with Danny Kaye in the concert company, "simply trusted me."
One thing that doesn't square is Pat's claim that his greatest weakness is "being crappy at details." If that were true, there's no way he could have taken his team of KJR deejays to dominant and unprecedented audience ratings in the '60s while holding more than a dozen teen dances at the same time, or staging an average of two concerts a week across the country in the Concerts West years from 1967 to 1976. He subsequently owned a string of radio stations, including KYYX and KXA in Seattle and KORL in Honolulu.
The B-side of being The Man who could make-or-break a band's career is that he was the frequent target of lawsuits over allegations of payola and monopoly of the local music scene in his heyday. Thanks to a wise investment in the early development of Newport Shores in Bellevue, he had the financial resources to survive his legal entanglements, but was near bankruptcy in 1983 after his radio empire fell on hard times as a $10 million bank loan came due.  He went into Chapter 11 and eventually repaid all debtors, in true Perils of Pat fashion!
His 43-year reign as "the voice of the Seafair hydros" began with an urgent call to his hotel room in Dallas, where he was staging a Hendrix concert in 1967. He grabbed a red-eye flight and debuted next morning on Channel 13, nervous as to whether his appeal as the voice of KJR would translate to television. The rest—as they say—is history, rewarded by his selection to serve as Grand Marshal of this year's Seafair Parade.
There are more things you should know about the "private" Pat:
• He's had two brushes with death. One came in 1966 when an old Pacific Airlines piston-engine plane stalled on takeoff from McCarren International Airport in Las Vegas. Pat says the deadstick, across-the-runways landing didn't bother him at all because, as a licensed pilot, "I knew how the pilots were handling it the whole the time." On another occasion, he was driving a go-cart at a tour-ending party for Bachman Turner Overdrive at a high-speed track in Arlington, TX when he collided with another cart, went helmetless through a chain-link fence at 50 mph and instinctively ducked to avoid decapitation. He still suffered a torn ear, shattered elbow and loss of his right thumb, which was recovered and reattached by a surgeon at Parkland Memorial Hospital in Dallas.
• He eats only one meal a day (after 6pm), a regimen he began in 1972 after a doctor at the Mayo Clinic suggested that eating one or two meals prior to that robs the brain of blood needed for maximum mental acuity and metabolism.
• It must be working, because his 5-foot-9 frame still carries the 150 pounds he weighed in high school. Despite that small stature, he has a commanding presence in any gathering, combined with that rare ability to make one feel he's talking only to you.
• His weight maintenance is perhaps abetted by the fact he still smokes nearly a pack of filter cigarettes a day. How does that square with beating the alcohol addiction? "I only smoke the cigarette halfway down and I open my mouth wide after inhaling to cool the smoke. I just had a checkup and my lungs are in perfect shape. What's more, unlike alcohol, cigarettes never caused people to beat their wife, get a DUI or commit murder!"
• His proudest accomplishments?:The radio team I put together at KJR and the work I'm doing now with Shick Shadel," Pat is quick to respond.
Few are aware of the dedicated behind-the-scenes work Pat did with his KJR deejays and news announcers to sharpen their on-air performance. Off-air planning and role-play were a must, to ensure that there was not a fraction of a second  of "dead air" that might encourage a listener to change stations. And he made news a priority, giving announcers the authority to go live at any time with "breaking news," yet never permitting them to repeat a news item. "When KIRO began doing research before going to news/talk, they found out that our little old music station was rated No. 1 as a Seattle news source," Pat says proudly. He also pioneered remote promotions, such as the KJR All-Americans basketball team that added to the exposure and popularity of the deejays, like Dick Curtis, Lan Roberts, Tom Murphy and Lee (The Emporer) Smith and—in turn—led to the unequaled success of KJR itself.
Perhaps his greatest KJR promotion was the historic-snowflake exhibit at the Seattle Boat Show in the early '70s. He dispatched Emporer Smith to Alaska to dig up "a snowflake that fell on the Mendenhall Glacier 100,000 years ago." Chain saws were used to remove a two-ton block of ice that allegedly contained the historic snowflake. The block was transported to the Show, where it was displayed on a glimmering purple carpet like a massive diamond, all reported breathlessly on KJR. The result: Record-breaking attendance.
Pat says he was a "happy drunk," who could consume more than a fifth of whiskey a day and continue to function. In 1986, after downing his daily ration, he even emceed a broadcast awards show and the very next morning faced an intervention by eight of his business friends."I honestly thought they were there to give me an award," Pat laughs. "I was mad when I found out what they were up to. I agreed to go into treatment, but I was determined to beat the system and continue drinking. Thankfully, it beat me."
After his successful treatment, Pat was a believer in the methodology and eventually became part owner and spokesman for Schick Shadel. He speaks to each class of 30 or so patients as they near the end of their 10-day stay at the Burien facility, which now treats more than 1,000 men and women with alcohol and drug addiction annually and boasts a success rate of more than 80%. The Schick treatment costs around $15,000 and is covered by most insurance plans.
At a recent such session he explained to the patients how the alternate-day doses of sodium pentathol and emetine (a nausea agent) constitute a form of aversion therapy that "shuts off that little receptor in your subconscious that makes you want to drink or use drugs." Pat said Charles Shadel developed the treatment in 1935 after becoming convinced that alcohol addiction is in the genes and not a moral failing. None other than Dr. James Milam, whose competing Lakeside-Milam Recovery Center next door in Burien uses the abstinence-based approach, said he has "personally investigated Schick Shadel's treatment program and found it to be highly effective and superior to common alternatives in relieving the guilt and shame projected on patients by society's ignorance."  Jerry, one of three sons from O'Day's first marriage, is a president of the Schick Shadel Alumni Association and vice president of marketing for the facility.
Pat is remarried— to wife Stephanie—San Juan County's leading land-use attorney, and they have a daughter Kelsey, age 18. Sitting on the deck of their Frank Lloyd Wright-inspired concrete-and-steel home after his recent annual benefit tournament at the San Juan Golf Club, it became clear that neither the private nor the public Pat O'Day has any plans to retire. Besides his continuing real estate and Schick Shadel responsibilities, he's obviously obsessed with getting back into radio and employing some of the individual creativity and promotional ideas that he believes have been lost in these days of radio conglomerates.
"Committees, research and the accountant mentality are killing creativity in radio," Pat declared. "There's even more opportunity today than when I began at KJR 50 years ago for the right individual to take advantage of that. Radio is companionship, plain and simple, and they're ignoring that fact."Sounds like easy pickings for a guy who had the vision to seize the moment in the rock 'n' roll era of radio and then to revolutionize the concert business across the country—all from little old Seattle.
---