Jann Blackbourn
Jann Blackbourn • Written September 2013








Jann Blackbourn's sales career began early as a young teenager selling Seafair pins in downtown Seattle to businessmen in the financial district. After graduating from Roosevelt High School she went on to the University of Washington, putting herself through college with a job, sales of course, in women's clothing at the University Bookstore. As a 1974 graduate in Art Education, rather than accepting an assistant buyer position in cosmetics at the Bookstore she joined Washington Transit Advertising for what she thought would be a something to do until she found a job in Education. That "something to do" turned into a successful 27-year career in transit advertising. In 1975 she married Steve, her college sweetheart and in 1984 son Ryan was born.
In 1986 Jann teamed with her co-worker & close friend, Sue Bolduc to purchase Washington Transit Advertising. Together they grew WTA to be the largest women owned media company in the state with offices in Seattle, Tacoma and Spokane. And, while setting advertising revenue records for twelve Washington State transit agencies, they never forgot to give back to the local community.
At the urging of their trusted friend and advisor Bob Gogerty of Gogerty Stark Marriot, they formalized their community giving by developing "WTA Cares". It was founded on the philosophy to always seek ways to partner with community service agencies. In addition to dedicating personal time and resources, they encouraged and supported everyone on the WTA team to reach out and make a difference as well.
As a result, during the course of their business they received the Seattle Mayor's Small Business Award, the Marketing & Media Hall of Fame Honor, and the King County Office of Minority/Women Business & Compliance Award. Jann also received the Big Brothers of King County Media Service Award, YMCA Woman of Distinction, National AAF/AD2 Lifetime Membership Award, the Big Sisters Entrepreneur Role Model of the Year as well and the Corporate Volunteer of the Year for Boys & Girls Clubs of King County. Of course their biggest reward, came from seeing the impact of "WTA Cares" in the community. In 1998 at the age of 46 they sold WTA to Viacom/CBS where Jann remained as Vice President, NW Regional Manager for the CBS Outdoor Division.
Since Jann's retirement from the advertising industry in 2001 she continues to give back to the community and has proudly served on numerous boards and civic organizations. And as life is a full circle, she's back at the UW but this time serving on the UW Alumni Association Board of Trustees. Jann enjoys spending time between their homes in Seattle and Whidbey Island. Their son and daughter-in-law, both enjoying successful careers, live 2 miles away with their two Great Danes and will be welcoming a baby girl to the family in December.
My career in advertising began when I graduated from the University of Washington. With a teaching certificate for art/graphic design in hand, I landed a job at Washington Transit Advertising (WTA). I first met with Gary Andersen, son of company founder Howard Andersen, and the then owner of WTA and Ilium Octopus. It was while interviewing for a graphic design position at Ilium I was introduced to WTA's sales manager John Backstrom.
Backstrom liked me and I was hired….at a whopping $500/month as "Girl Friday"….receptionist, bookkeeper, photographer, graphic design/production coordinator and public service administrator. With my joining the company the staff increased by 25%. There were now 4 employees or as John liked to say "Jann is the third leg of the company stool". About a year later Backstrom and his partner Bob Morgan bought WTA from Gary Andersen and I moved into sales. Strange as it seems now, I was the first woman to sell for WTA.
Diving into sales, I was off and running in my trusty Mazda 1200. With the horsepower of a sewing machine it got me between our Seattle office on Western Avenue and my Tacoma-Pierce County clients 2-3 times each week. I loved my job.
In the ensuing years, I had the privilege of working with the "Who's Who" in our advertising and media community. My very first week at WTA I met my teenage idol, KOL DJ Lee Chase (aka Gary Spinnell). At 22 years old I thought it just doesn't get any better than this! Soon after I met two advertising creative icons….Mike Mogelgaard (Mogelgaard & Associates) and Steve Darland (The Consortium). They were two of the best and brightest and great clients of WTA. Working with them taught me so much. And yes, I still have Mogelgaard's infamous series of Christmas cards including my personal favorite….his take on 1950s idols featuring Mike's "Blue Christmas" duet with Elvis.
In the late 1970s, one of the Consortium's top accounts was Metro Transit. The client, Metro's Marketing Manager at that time, was none other than MARKETING Publisher Larry Coffman. Darland and I both worked closely with Larry on The Consortium's classic ad campaign "Take Me, I'm Your's", "Take Me Shopping", "Take Me to the Kingdome", and "I'm No Dummy, I Take the Bus". The signs ran for months and are still one of the best examples of great transit advertising. Another outstanding campaign was created by the incredibly talented Tim Girvin (Girvin Graphic Design) who I was introduced to by Darland. Tim's amazing calligraphy combined with the deceptively simple message "A Great Bus Sign" did its' job increasing awareness of WTA and transit advertising.
These were the years of locally owned and operated entities… Ackerley billboards, WTA, newspapers, radio and TV stations. There were just a couple of large agencies and several small to mid-sized in the market. Of the large, Cole & Weber had the advertising superstars Ron Elgin and Dick Hadley. What a power team! There were a dozen radio/TV owners and we had about 15 different GMs on which to call. My account list included media greats like Ken Hatch and Glenn Wright of KIRO, Pat Scott at KOMO, Pat O'Day of KYYX, Bob Bingham of KHIT, Todd Bitts at KPLZ, Harold Greenberg at KTAC and Jim McGovern of KMPS. Try keeping track of those guys without today's internet, smartphones or texting!
In 1986, Backstrom and Morgan decided to sell WTA and asked that I consider buying the company. Teaming with my colleague and close friend Sue Bolduc, we began the purchase process. It was an easy decision to make. I asked Sue "what do you think?" and she replied "I'm in if you're in". With that our partnership was forged. We painstakingly put together our financial portfolio and confidently set out in search of a business loan to help finance the purchase. After presenting to five banks and being summarily rejected by each, we finally found one loan officer willing to take a chance on us. Relief! Imagine our surprise when we learned, just a couple weeks later, ours was the last loan he approved prior to a stint in rehab. Is this like an episode of "Mad Men" or what??
We moved our offices to the recently completed Westlake Center and warehouse facilities to SoDo. Together we grew WTA to be the largest women-owned media company in the State with offices in Seattle, Tacoma and Spokane. And, while setting revenue records for our 12 transit agencies, we kept our commitment to give back to the community. "Giving back" was a tenant we embraced ultimately giving our program a name, "WTA Cares". Always seeking ways to corporately partner with community service agencies, we also dedicated personal time and resources and encouraged everyone on the WTA team to reach out and do the same.
Through the years my work allowed me introductions to several luminaries including President Bill Clinton, His Holiness the Dalai Lama, Jesse Jackson, Reverend McKinney, Bill Cosby, Oprah, Ted Turner, Larry King, Liberace and Dan Rather. I also met Tom Selleck a couple of times, but that's another story. We were blessed with the opportunity to better our community working alongside dedicated elected officials including Ron Sims, Norm Rice, Greg Nickels, Larry Phillips and Jane Hague. Sue's and my braintrust of business advisors included Bob Gogerty (Gogerty, Stark & Marriott), former Mayor Wes Uhlman, the late great Wally "the Bear" Toner, and John Giese. These individuals helped us expand our business and political contacts while increasing our business confidence. We will be forever grateful to each of them.
In 1995 Bob Gogerty's firm was retained to oversee campaign strategy and operations for "Home Town Fans", the group organized to run the campaign seeking funding for a state-of-art retractable-roof open air baseball stadium, which ultimately became Safeco Field. Bob invited me to serve as Treasurer of the group and I jumped onboard. The campaign got its "first pitch" in Kirkland one sunny day during June 1995 and it will always be special memory. My son Ryan, then a 10-year-old Little Leaguer, threw that first pitch to me and I (thankfully) caught it. It was July 15, 1999 when the stadium hosted its first game and The Mariners invited me to be on the field. Standing next to King County Executive Ron Sims and witnessing the roof rolling back while the Seattle Symphony Orchestra played was truly an honor. The Seattle Mariner's President Chuck Armstrong remains a friend to this day. Go Ms!
It was mid-1998 when our national competitor, Transportation Displays Incorporated (TDI), a subsidiary of CBS/Viacom approached us with their interest in acquiring WTA. The industry had grown tremendously, changed drastically and joining their company would enable our company, and the transit markets we represented, to compete on a national and international playing field. At the time TDI purchased WTA, they were the largest transit advertising sales company in the world ultimately growing to $800 million in annual sales. Sue Bolduc and I flew to San Francisco in September and negotiated a deal with long-time business associate and TDI's Chairman/CEO Bill Apfelbaum. Remembering my friend Ron Elgin's advice of "know when to hold 'em, know when to fold 'em", WTA joined the growing list of local companies purchased by large national firms. Our amazing attorney and dear friend, the late Keven Davis (Garvey, Schubert & Barer) guided us through the sales process with unwavering professionalism, legal expertise, humor, love, care and compassion. We miss you Keven Davis….and we'll never forget you. With the sale complete, I remained as VP, NW Regional Manager at CBS Outdoor for a couple of years.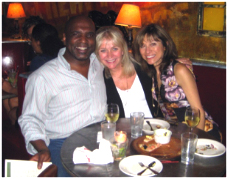 Photo: Keven Davis, Blackbourn & Bolduc at Pravda NYC 2008
In 2001 I happily retired from advertising and enjoy having time to spend with family and friends, while continuing my community service. My time is divided between our home in Seattle and on Whidbey Island with husband Steve and the world's best dog, our cocker spaniel Boo. The last 2 ½ years have been spent designing and building our dream home in the Blue Ridge/Ballard area. Most exciting of all, this December we will joyfully welcome a baby granddaughter thanks to son Ryan and his beautiful wife Hannah. I am truly blessed to have had such a rewarding career surrounded by a fabulous business partner, great clients, mentors, business associates, and wonderful friends with so many amazing memories and experiences.
When Ryan was just 5 years old, he spent a day in my office to observe his Mom at work. On the drive home he summed up my career with "Mom, you have the best job in the world. You talk on the phone, play on the computer and go out to lunch". Pretty much sums it up. It's been a great ride.
---