Brian Hunt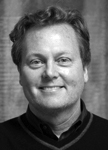 Back in the late 1970's in Detroit, Brian was a young marketer faced with a unique challenge: how to drive traffic to Lincoln Mercury showrooms (yes, the automakers were in trouble back then, too). Their offer at the time for a new lease or purchase was $1,000 cash, which just so happened to be the same price as an ounce of gold. So, Brian proposed testing an ounce of gold head-to-head against the cash offer. It was a big success. Nice ROI. Fast forward almost 30 years, and Brian can look back on a broad and successful direct marketing career. He has helped solve challenges for a diverse group of clients including Bank of America, Microsoft, Rosetta Stone and Safeco Insurance. Today, Brian is happy to be at the helm of Hunt Marketing Group: an independent direct marketing shop packed with high-powered thinkers.


As I finish my 3rd decade in the direct marketing business it's astonishing to look back and see how much our discipline has evolved – especially right here in Seattle. When I arrived from Detroit in 1982 I discovered two shops on the local landscape: Dinner and Klein and Krupp/Taylor. And both these businesses resembled something more akin to a printer than an agency. It seemed anyone searching out a DM agency needed to look in LA or Chicago and even those markets were just beginning to incubate them.
Yet there was something in the air in the early 80's. Bob Hacker was plotting his exit from Thousand Trails. Bill Fritsch and Phil Herring had arrived in town sharing moving van costs from LA, although I suspect Bill picked up the lion's share since he had a job waiting for him. These legends and a handful of other early Seattle direct marketing pioneers found our collective voice with the formation of the Seattle Direct Marketing Club in 1984. We'd meet monthly at Rossellini's 410 (now sadly another Belltown condo development), have a few drinks and proclaim "damn the generalists, direct marketers will be heard." It's true; some of us had a chip on our shoulder visualizing those smug general agency folks, with their fancy offices and sexy jobs, smirking at this annoying little community trying to get our voices heard.
Well, as our voices and confidence rose higher Seattle began giving birth to a fertile and broad direct marketing agency community: The Hacker Group, Herring Newman, Christiansen and Fritsch, Sharp Hartwig, Strategic Direct, Hunt Marketing Group, and others I shamefully forget. It was the good times. Throughout the 80's and 90's our direct marketing community grew at a rapid pace, agencies sold and merged, new ones started, clients staffed direct departments. And a robust and equally passionate supplier community developed with list brokers, DP and laser houses, printers and lettershops. Seattle had arrived on the national direct marketing map.
What had not yet arrived however was the Internet, but as soon as Al Gore put on the finishing touches it dropped down on us in the mid 90's. And man, did it wake us up from our party hangover. We knew, every direct marketer knew, deep down in their gut that this was going to be a game changer. The only question was how fast would it happen? We all know now it happened, and continues to happen, at lightning speed. Good morning Amazon.com. Good afternoon Avenue A. Hello banners, email and search engines, not to mention interactive strategists, digital designers and web programmers. We were not in Kansas anymore. Measurability, accountability and promotion optimization could now get done on-the-fly, in real time, and working these new and ever changing strategies and executions into our campaign plans would become table stakes for anyone continuing to call themselves a direct marketer.
So where are we now and where is the Seattle direct marketing community after these past 25 or so years? I wish I had some clever answer that wraps it all together but the fact is our community today is splintered and fragmented throughout the marketing and communications landscape. We are all at once nowhere, yet we are everywhere. Today, direct marketing is marketing. It has been woven into the everyday fabric of how all organizations go to market with their product and service offerings. The volume has been turned up, way up, for measurability, accountability, optimizing and return on marketing investment. And if you plan to be around for the next 25 years you need to be listening, and practicing, accordingly.
---