Ted Leonhardt
Ted Leonhardt • Written July 2009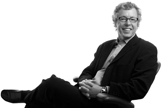 Ted Leonhardt co-founded The Leonhardt Group (TLG), in 1985, with his wife and partner Carolyn Leonhardt. When they sold in 1999 it had reached $10 million in annual fee sales and a staff of 50. Major clients included: Microsoft, Nissan, Charles Schwab, Nordstrom, Washington Mutual, Electronic Arts, Apple, XO Communications, Boeing, Weyerhauser.
TLG became part of Cordiant Communications Group in 2000. Ted and Carolyn moved to Europe where Ted served Cordiant's design and branding group -- Fitch:Worldwide -- as CCO/Global in 2001 and 2002.
In 2003 Ted joined Schawk, Inc. where he held the position of President, Anthem Worldwide, through early 2005. He is a graduate of The Burnley School of Professional Art in Seattle in 1967.

From as early as I can remember, I loved magazines and the glimpse of the grown-up world they displayed through advertising and editorial. In the '50's we had a subscription to LIFE magazine, which came in the mail every Thursday. I pored over it and absorbed the images and imagined living the life of style and sophistication shown in the beautifully illustrated ads. Clothes, cars, girls, tract houses, cigarettes and booze, what a great life. I couldn't wait to be a part of it. Not only did I want that life, I wanted to create the art and the images that influenced people. I wanted to know how to make the images that created desire.
I had always loved to draw. By the time I reached high school I was certain that I would make my way in the world through art. Cleveland High had a new art teacher, Frank Fujii. Mr. Fujii wore a beret, played jazz records in class, and had his own set of bongo drums. He could draw and paint and had a terrific cartoon style that was all over the school in publications and on signs which he printed on his own silk screen setup right there in class. Mr. Fujii was my first exposure to a professional who made his way in the world with art.
Mr. Fujii had a connection to Mits Katayama of Graphic Studios and through him brought professionals from Seattle's ad and creative communities to speak to us. The illustrators made the biggest impression on me. At the time, Graphic Studios was a major source of talent for Seattle's thriving ad community. I remember Mits as he spoke to Mr. Fujii's art class. He was a humble man and spoke in a low voice, but his work wasn't humble, it was inspirational.
At that time Seattle City Light had a surplus of power and ran a campaign on billboards and full-page newspaper ads urging us to consume more electric power. Mits and Irwin Kaplan did the illustrations and they were powerful when displayed on the big outdoor boards. Tad Wada, lettering artist, Ted Rand, illustrator, and Bob Cram, the cartooning weatherman were all members of Seattle's Graphic Studios along with Irwin and Mits.
During my high school years, I had a recurring dream in which I saw myself in a suit, tie and wingtips, carrying a briefcase and entering a tall modern office building. It wasn't clear what I would do in the building, but the image in the dream lifted me out of my D student high school life into a new world. That dream and the search for how pictures could move people to action shaped my career.
When it became clear to my mother that I was not going to go to the UW, she consulted with Mr. Fujii who steered us to Seattle's Burnley school.
I can still remember how I felt when I stood in front of Burnley with my portfolio. The school was on the top floors of a small grey stucco building at the corner of East Pine and Broadway. The school entrance at 905 East Pine had a beautifully hand lettered sign in a modern serif italic that said The Burnley School of Professional Art. That said it all as far as I was concerned. Inside the door were a flight of sisal covered stairs that lead to the second floor offices where Jess Cauthorn carefully looked over my high school work to determine whether or not I could attend, an anxious moment. If I didn't get in, my future was driving a truck.
In 1964 I entered The Burnley School of Professional Art with the belief that I'd learn how art could persuade.
Burnley was a great place for me. Art had always been the thing that I could do. I loved to draw and paint. The classes and assignments got my full attention and I put all my energy into getting as much as I could out of it. This was a place I understood, and I was doing the stuff I had always wanted to do. Burnley was a whole new experience for a boy who only applied himself sporadically in school prior to this.
In my first year I studied lettering under Tad Wada, of Graphic Studios, layout with Henry Bennett, design under Fred Griffin and watercolor with Perry Acker. Bill Cumming taught figure drawing and Jess and Colleen Cauthorn showed us all how to run a fully professional art organization. These were all notable accomplished artists who had credible creative careers and experience outside of teaching. I was in heaven.
I remember Fred Griffin's class vividly. Fred had developed a theory he named the Design Code Process. It was completely at odds with my desire to know how design persuaded, so I resisted it while still trying to get as much recognition from him as I could. Each week he gave us a visual problem to solve on a ten by twenty board, circle-square-triangle arranged using the principle of large-medium-small or framing or perspective or edge-to-edge relationships. I struggled with it. We all struggled with it. Fred would collect all of our finished boards and arrange them from best to worst while we sat in absolute silence. I held my breath when he picked up my board and moved it to best in class, and then would watch in despair as he placed other boards ahead of mine. Sometimes I could understand why his best pick was best, sometimes not, but it was always painful.
Diane Solvang (now Solvang-Angell), a fellow student, was so captivated by Fred's Code that she wrote and published a book on it in 2002 titled The Design Code Process: An Exercise in Visual Logic.
Fred also required us to keep sketchbooks, which he periodically reviewed. He believed that artists should practice as much as professionals in sports or music. A good idea. I dutifully kept my sketchbook, but was never as serious as Fred about my art. Fred was demanding, serious about his work and somehow a bit mysterious. His teaching style made me want to measure up to his standards, but his view of design never matched my more commercial motivations. I wanted to move people to action in the consumer market place. I wanted to know how to instill desire. Fred seemed to want us to be striving -- sometimes starving -- artists. I wanted those wingtip shoes and a new Thunderbird and the means to get them. I hoped starving was not in the cards.
I completely missed the social side of the Burnley experience. I don't even know if there was any. I was busy working and doing homework, and made few friends. Doug Fast, the most talented artist from my class at Cleveland, was in my class at Burnley. Doug went on to do great work for K2, Starbucks and Rainer Beer with Terry Heckler. Mike Bell, who founded Soderberg and Bell as well as Zebra Press, was a talented classmate. Mike and I rented an office together and actually did some business under the name Bellhart with Diane Solvang.
Jess Cauthorn connected me with several part time jobs including a stint in the art department of Dinner and Klein, which was called a "letter shop" but became one of Seattle's first direct marketers. I lettered grocery mailers with a speedball pen and learned a lot about the basics of mechanical art for lithographic printing.
Jess and Colleen offered a couple of scholarships to students who'd performed well in their first year. I landed one. The acclaim combined with my growing sense of professional experience went straight to my head. It was, in my mind, time to launch my professional career. I spiffed up my book, as I'd seen the third year students do, and made appointments to see Harry Bonath of Bonath Studios and Lloyd Pearce, head of design at Eddie Bauer. I don't remember much of my meeting with Harry except that it was very short and that he sprinkled cigar ashes on my work on a hot spring afternoon in his Seaboard Building office. Lloyd was a different story. He asked me detailed questions about everything in my book and then carefully took apart my answers. My reasoning was faulty, my craftsmanship poor, and my perspective nonexistent. I left with my tail between my legs and returned to Burnley to complete the second and third years. I still remember walking the few blocks back to school with my head down, staring at the gray sidewalk under a gray sky. Mr. Pearce provided a great service by giving me a realistic perspective, but my fragile ego was crushed.
Back at Burnley, Jim Richardson, of Richardson Associates, introduced us to the world of graphics for business and the magic of corporate identity. Doug Sandland, a Cole & Weber Art Director who wore sharkskin suits and wingtip shoes, gave us a glimpse into the powerful advertising culture. Jim and Doug provided the first direct insights into what skills were needed to enter that world of influence and more importantly, what to wear.
I saw an ad in the paper that lead me to the Hong Kong Tailor in the Dexter Horton building and had my first suit made. Sharkskin, of course.
Bart Attebery introduced us to the photogram and became an important source of photography and new business leads early in my career.
Gus Swanberg, James Edward Peck, James Scott and Dick and Cherry Brown taught illustration classes the memory of which still makes me envious of the effortless skill they exhibited in their work.
Dick Brown drew and painted like Bernie Fuchs and Albert Dorn, masters of the magazine era. Dick's handling of the figure, with just a suggestion of line, made men look heroic and women sexy. His art sold the Boeing SST to Eisenhower, and Puget Power stock to investors. This action style was a commercial interpretation directly descended from the sketchy paintwork of the Impressionists and drama of the Dutch Masters. Boy, did I want to paint like him. This was just as I imagined -- art that persuaded, art that was sought after in the corporate world.
Dick gave me my first real job in the business, doing paste-ups for he and a partner working in the fabled Tower Building. I wasn't hired for my illustration skill, but probably for my earnest diligence. The job didn't last long, but I got to see real work being produced for real clients. As I recall, I worked afternoons for Dick, and in the evenings I had another part-time job in the basement of the Tower Building, setting headline type on Seattle's first Phototype machine for a guy named Terry. "Touching" letters were all the rage at the time and with photo type you could easily align and touch the letters to each other before hitting the print button. Very cool, and much better than cutting and pasting headlines letter by letter with an Exacto Knife.
Exciting as these early jobs were, they were not enough to support a newly married man with aspirations. I went to Jess Cauthorn for advice and counsel. Jess always came through for me and my guess is for many, many Burnley grads. My next two jobs were both the result of leads from Jess.
Dick and Cherry went on to found Seattle's School of Visual Concepts, now owned by Larry Asher and Linda Hunt.
The first was the Boeing Turbine Division. I wore my sharkskin suit to the interview and carried my black portfolio case full of student work, mostly imitations of Dick Brown illustrations at this point. It turned out they needed some Brown-style art to finish a project that had run out of budget for the real thing. I spent nine months there working for Pete Peters along with Mike Burns, who became a noted northwest watercolorist. We worked in a small group in a basement office. Once I'd finished the illustration assignment I spent the balance of my nine months there turning out charts, graphs and other materials all designed to facilitate the sale of the division. All hand lettered with a Marsh pen. When I asked my boss what would happen to our jobs when the division sold I remember his reply as being vague.
This meant another job search, but first another important discovery. Printing salesmen routinely visited our Boeing offices and dropped off samples. One day the samples were truly magnificent: an annual report for Puget Power, illustrated by Dick Brown; a fund raising brochure for PLU, oversized deep rich black cover with a perfect quarter inch white border; and a product catalogue for Tacoma's Monitor Cabinets. All designed at Devin & Watson and printed by North Pacific Banknote as represented by Burt Pickering.
I found Kern Devin at Devin & Watson in a penthouse suite on the top of Seattle's Coleman Building. The work was cool, the place screamed design and the clients were big league. I had to be there. These guys clearly had the secret of how art and design moved people, and both partners wore cool suits and wingtip shoes.
However, they didn't need me full time, if at all, so I began to freelance for them hoping that my brilliant work would win me a spot. The freelance work was way more exciting than my day job -- illustrations for PLU jazz concerts, comps for Dan Evans' second term run, and even comps for top level Boeing sales literature, much higher status Boeing work than my day job with the Marsh pen.
In the meantime I now had a pregnant wife and with the Turbine Division sale moving forward, would soon need a job. Once again a lead from Jess saved me. This time a shot at assistant art director working for Robert (Bob) T. Mathieson. Bob's work played a role in promoting and signing Century 21, the Seattle's World Fair in 1962 and was featured in the first issue of CA Magazine. Bob was an in-house art director/designer at Metropolitan Press.
At last I had a real 9 to 5 job working for a big league designer who had connections to CA and collected worn oriental rugs. His degree was in chemical engineering but he paid his way through college by doing finished lettering for ad agencies, and never actually worked as an engineer. He did, however, calculate my pay and benefits on a slide rule.
My nine months at Met press exposed me to the world of hard drinking print salesmen, the need for overnight comps and changes to comps to please the client and get the print order, and the gap between labor and management. I was management which meant no paste-up work for me. I liked that, but when the strike happened in the summer of 1968 I didn't like crossing the picket line.
Bob Brady was the first print salesman that I got to know. He took me on sales calls and filled me in on what it took to be successful: make as many calls a day as you can, sales is a numbers game; always carry a hundred dollar bill in your wallet, it makes you feel rich and when you feel rich you're confident; sales is all about projecting confidence.
At Met Press I learned a lot about web and sheet fed printing, and color separations, but I also learned that when you're doing design work to sell printing, you have no power, no voice and no control over your work. I had to get out of there.
In January of 1969, Kern Devin called and offered me a design job. Dan Snope from Cole & Weber had also called asking me to interview for an art director position. Cole & Weber was one of the biggest agencies on the west coast and Seattle's premier agency at the time. I'd shown them my book several times and actually never imagined that I could land a job there. But, the day I got the call from Kern I wanted to be a designer, and with his offer in hand I called Snope and canceled my appointment. I had second thoughts later, but that day I was sure. I took the job and stayed seven years. Looking back now, forty years later, the Devin job was a big turning point in my career and definitely the right choice.
It was a great experience. I went from doing Kern's comps to designing on my own, working directly with professional clients, photographers, illustrators, writers, PR professionals. At last I was doing big league work that was really influencing outcomes, persuading people through corporate identity programs, annual reports, top level sales literature, political campaigns, fund raising pieces, you name it. And we worked with the best printers in Seattle and up and down the west coast. This was the best. I had arrived.
The little penthouse office of Devin & Watson held six of us: Kern Devin the design partner; Harry Watson the sales partner; Bob Honey designer; John Galane, artist; a secretary receptionist and myself.
Harry Watson was from a print sales and advertising background and the work seemed to just pour in -- brochures for NBBJ, annual reports for Puget Power and Loomis Armored Cars, CI programs for Battelle Memorial Institute and the University of Idaho, sales literature for Boeing, fundraising for The Little School, a magazine for Seattle University and all kinds of print for Pacific Northwest Bell.
Devin learned the design trade at Barton Gillet in Baltimore. When he was there the bulk of their business was fund raising pieces for private colleges and universities including Smith, Harvard and Yale. The work was beautifully designed -- the typography exquisite, the photographs deep, rich and beautifully composed. He had a finely developed sense of paper and ink.
At that time, all our comps were hand done. Kern could catch the feeling of a font with just a few surely rendered strokes of his pen or brush. Those hand done layouts merely suggested how a final piece would look. They were not exact representations, but more of a gesture. Kern was a master of those techniques, but he also understood the big picture, the strategy, the business goals of the client and it showed in his annual reports, identity programs and sales literature. There is nothing more powerful than understanding the communication goals and knowing how to meet them. It made his work sing, and I learned a ton.
Kern introduced me to the power of working with great illustrators, photographers and writers. The work of Mark English, Jim Hayes, Fred Thomas, Eric Hartman, Harold Sund, Tony Ward-Smith, and Tom McCarthy flowed through our office and into our work.
Tom McCarthy and Kern collaborated on the creation of a literature system supporting the sale of Boeing's commercial jet fleet. The resulting books were printed at United Graphics, managed by Burt Pickering, and look as fresh to me today as anything we've designed since. It underscored for me the power of working in teams.
Jay Rockey Public Relations was a major source of business for Devin. I worked on all kinds of projects with Rockey through Mike Dederer, a senior officer, and his editor, E. M. Sterling. Our biggest project was for the Alyeska Pipeline Service Company, the company building the trans Alaska pipeline. We designed all the literature promoting the construction and providing information about the project -- the status of construction and how the project was affecting the Alaskan people, economy and environment. The centerpiece of this effort was Alyeska Reports, a tabloid sized color magazine published quarterly and mailed to opinion leaders in local and national government, schools, businesses, the management of the owner oil companies and, believe it or not, the Sierra Club.
The magazine introduced me to the world of journalism. Sterling had been a PI reporter for many years and introduced me to business travel, presentations to senior management, and all the demands of putting out a large format magazine in large quantities. Sterling picked the subjects, got initial approval, hired the writers and managed all the editorial issues. I picked the photographers and illustrators, designed each issue and managed the production. Together, Sterling and I made many trips to Alaska where we traveled up and down the pipeline and brainstormed future issues. Our message to the public, reinforced in each issue, was always the same -- the pipeline is being built to the highest standards and will have the least environmental impact of any pipeline ever built, meeting and exceeding the standards of government and the environmental community, and it will be finished on time. We never talked about costs. Seattle's Craftsman Press printed it on the same web press that they used to print CA magazine. Chet McHugh managed the project for Craftsman.
The magazine was produced for three years, 1975-1977. Midway through the first year, Kern told me that he was planning to take a year off with his family to live in Switzerland and he wanted me to manage the office in his absence. Wow. This was big. I was thrilled. I was to be the new manager, keep the staff happy, make the payroll, keep the clients and land new ones if possible.
First thrilled, then terrified. We had a staff of six. Kathy Spangler had joined us about a year earlier and was doing some good work. The two of us worked well together. I learned about billable hours, change orders and how much the rent was.
We continued doing Alyeska Reports. Tony Ward-Smith had his own communications business and we worked with many of his clients. We also continued to work directly with Boeing, Pacific Northwest Bell, Heath Tecna, Battelle, Seattle Pacific University and many other small clients. We had moments of not enough work and too much work. We added staff and let staff go as needed. Every month we sent Kern a check with a report and usually got a letter in return.
The year passed, we grew the business a little and Kern returned to his leadership/owner role. Things seemed to go well at first as he started seeing clients again, looking to drum up business. But, the new business didn't seem to come our way, and an uncomfortable feeling seemed to invade the office. I was clueless about what to do. One day in the fall of 1976 Kern asked me to his office and when I departed I had either been fired or quit.
I asked Kathy Spangler to be my partner and she said agreed, but together we thought we should get some advice from a lawyer and others in the community. First we talked to Bruce Walker, who told us not to start our business. He was emphatic, pointing out the competitive environment and the downturn in the economy -- it was 1976 -- and how long it had taken Kern Devin to build a business. Our lawyer said "go for it" and drew up our articles of corporation and a useful buy/sell agreement. We were in business the next week in an office two floors below Kern, in the Coleman Building. We recruited two other Devin employees -- Carm Varley and Kathy Eithner. Dederer came through with the Alyeska account and we were off and running as Spangler Leonhardt.
I went immediately to Mike Dederer and asked him if he'd hire me to start a design group at Rockey. I laid out a little plan showing the potential. He turned me down, but I left his office with the distinct feeling that if I went out on my own he'd continue the Alyeska work with me.
Spangler Leonhardt lasted from 1976 to 1985, nine mostly good years. We hired some great people including John Hornall, who had just departed the David Strong Design Group. Lee Hicks was our first marketing/strategist and provided a combination of new business and business insights.
A few months later Mike Dederer hired Kathy Eithner to establish the Jay Rockey Design Group. He told me that my idea was too good to pass up, but he felt that I would probably have been way too much trouble in the role. He did, however, leave the Alyeska business with us.
John stayed with us for a year or so before he left to start the Cole & Weber Design Group where he recruited Jack Anderson as his number two. The Cole & Weber role didn't stick either, but his next gig did. John and Jack went on to create Hornall Anderson, under the wing and guidance of Ron Elgin. Hornall Anderson was a formidable new player and their competition forced me to get a lot better just to keep up. Amazing how that works. Looking back, I can see that the growing competition from Tim Girvin, Hornall Anderson, and later, Methodologie, was the making of me, and propelled Seattle's design community onto the national scene.
Around this time I read Ries and Trout's Positioning: The Battle for Your Mind. I was blown away. Here, for the first time I encountered the secret formula that showed how to create desire. The formula that I'd been looking for since I was a kid studying the ads in LIFE magazine.
At Spangler Leonhardt, Positioning inspired my interest in advertising. Kathy knew Fran Olsen, a gifted freelance writer, and together we pitched and won some advertising business. FLUKE had just hired Maury Floathe and Greg Johnson from Oregon's Techtronics to head their new in-house advertising team. Fran and I fit their needs for a creative team. Together the two of us understood the importance of positioning, differentiation and the power of narrative to pull it all together and we had a great time knocking out ads together.
Later, Floathe and Johnson went on to form their own technical advertising agency, Floathe Johnson, that was ultimately folded into Evans Kraft as the high tech experts.
During that period we did as much advertising as we did design at Spangler Leonhardt. In fact I had moments where I thought we should become an ad agency. One of our talented hires was Greg Erickson who we recruited from Evans Kraft to work on FLUKE, Teltone, Deck Kote and others. When Cynthia Hartwig, of the newly formed Sharpe Hartwig, recruited Greg back to the ad side of the business, we renewed our focus on design.
Kathy and I both had experience in the annual report business and, with Lee Hicks, we launched our first annual report sales effort and began picking up clients, including Rainier Bank, Pacific Northwest Bell, University Savings Bank, Pioneer Savings Bank, Paccar, Airborne and others. It was great business and an opportunity to sharpen our skills in understanding the businesses of our clients and developing communication strategies to meet their needs.
I felt that annual reports were the ultimate corporate persuasion tools and I applied all the insights I'd gained from Ries and Trout's Positioning whenever I could, but it took me another ten years, until the early nineties and our entry into branding, to fully apply the concepts.
These were good times, but in spite of my improving skills, insights and confidence, something was missing. I'd gotten past the sharkskin suit and the wingtips. I'd even owned the Thunderbird, but I was slowly waking up to the fact that our work could be a lot better, our staff happier, and that there was more to life than persuasion and economic success.
In 1985, a series of events changed my life and ultimately resulted in the creation of The Leonhardt Group, where, in the following 15 years, all of my dreams came true.
But that's another story.
---