Jim Carey
Jim Carey • Written January 2019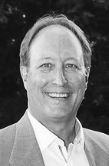 Jim Carey grew up in Yakima and learned at a very early age that baling hay and working in the hop fields was not for him. It also was his motivation for attending college. After graduating from Carroll High School, he went on to study Advertising, under Ed Bannister's tutelage, at Washington State University. Upon graduation in 1978, he quickly was thrown to the wolves as an intern with Hillard & Tonkin. Though the internship lasted only a brief time, Jim learned lessons to that would fuel his determination to succeed in years to come. 
In 1979, Jim's career really began when he met now fellow IMMORTAL Steve West, who had just been promoted to GM at KISW, owned by Les Smith and Danny Kaye. Steve made Jim the marketing and promotions director During his seven years there, KISW won many awards, was named national radio station of the year and was the first rock station ever to top the Seattle radio ratings. Jim also freelanced for Kaye Smith Properties, as well as many stations across the country. When KISW was sold in 1986, he decided to take the plunge, and go out on his own. 
During the initial stages of Carey & Associates, Jim was fortunate to work with some incredible companies, including Disney and Shamrock Broadcasting, designing for their properties throughout the country. Jim also was able to merge his love for design and sports by working with the late Bob Walsh (also an IMMORTAL), who became a great friend and mentor. For Bob, Jim designed marketing materials for the 1984 Final Four basketball tournament, the 1987 NBA All-Star Game and the initial Goodwill Games in Russia and the followup 1990 Goodwill Games in Seattle, sponsored by Ted Turner and his Turner Broadcasting Company.
In 1992, Jim formed Carey Keller Anderson (CKA), bringing together Karen Keller, who had worked in agencies across in the Puget Sound, and Mark Anderson, a designer, who had been Jim's intern. CKA worked with Microsoft and soon became a MSVP preferred vendor. The agency also did work for Expedia in its early years, as well as Amazon, when it had only 19 employees. Later clients included Microsoft, Chateau Ste. Michelle, Holland America, Fred Hutch, The Boys & Girls Clubs, The Moyer Foundation, The Auction of Washington Wines, Children's Hospital, and Washington State University, as well as Disney and Shamrock. 
Tragedy struck in 2001 when beloved partner and friend, Karen Keller, died of cancer. Determined to keep her memory alive, Mark and Jim kept CKA running for another 13 years, never dropping the Keller from the agency name. In 2014, CKA merged with Blankslate Creative to form Doubleknot Creative. Dave Blank, Melinda Torres, his old partner, Mark Anderson and Jim are the partners in the present firm.
Jim and his wife of 34 years, Chris, have two children. Daughter Kelsey works for Doubleknot and son Nick is in sales with Bellevue-based Smartsheet. A piece of Jim's heart also belongs to the Cougs. He's actively involved as a trustee in the WSU Foundation and Board member of Cougs First. 
---