Hal Newsom
Hal Newsom • Written May 2009 • Died October 2015
Hal Newsom didn't grow up in the Northwest. He wishes he were a native but if he had he might never have met his wife. The two of them worked at the soda fountain at Old Faithful the summer of 1950, and it was through Peggy that he learned that Seattle was the greatest place in the world to live. Hal says, "We fell in love by the second date and from then on valued every minute of that summer we were together.
Hal graduated from Beloit with a degree in Economics and high-tailed it to Seattle. He made the rounds of advertising agencies in the area but was turned down at every stop. The advice that seemed to be universal was a graduate from the U of W Journalism School had a leg up on all other applicants. He delayed his mandatory service obligation and enrolled at the U of W where Peggy was now a junior. Here he honed his skills in writing, as sports editor of the school Daily and built his first advertising campaign with the introduction of a new restaurant, The Burgermaster.
Hal then entered the US Army as a private destined for the OCS School at Fort Benning, Georgia, but not before 16 weeks of basic training followed by leadership school. He and Peggy were engaged when he left for the service and were later married in July, 1953.
When he returned to Seattle in 1955 after his tour with Uncle Sam, he began his search for an advertising job in Seattle. Bud Noren, advertising manager of SAFECO, took a risk and hired the "green pea" transplant.
Dan Gerber, senior account man at Cole and Weber, saw some potential in Newsom as a copy-contact person on the Weyerhaeuser account in Tacoma. He hired him in 1958. When the Condon Company was purchased by Cole and Weber, Hal met Hal Dixon and the two hit it off right away. Soon they became known as the "Two Hals".
He retired in 1989 and immediately took to the mountains, hiking, running and spending time with his wife and family. In 1995 he was diagnosed with Parkinson's Disease and, as was his nature, plunged into activities related to the disease. He helped found the Northwest Parkinson's Disease Foundation which developed the Booth Gardner Parkinson's Care Center at Evergreen Hospital. He also wrote a book to help newly diagnosed Parkinson's people. Then in 2008 he published a book titled, Yellowstone Summer, now available at bookstores and AOL.com.
                                                                         • • •
I had an experience when I retired that showed me what a class act an advertising agency can be. Jim Winton, who worked at the Kraft agency, called me two days before I left Cole and Weber and said he wanted to pick me up and take me for a ride. The ride was to the Kraft Agency. Jim had worked for us a number of years before. He had no obligation to initiate what happened next. We opened the door and there was Don Kraft with his entire staff cheering me. They asked me to speak. As I looked over the many faces, all I could see was a sea of what looked like seventeen year olds. It was then that I was sure I had made the right decision to retire.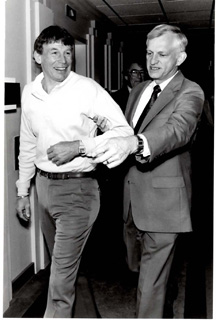 Don Kraft surprises Newsom with a retirement party.
Someone had said that advertising is a business for the young.
As I review my many years of making ads, I recall a number of vibrant, enthusiastic young people who entered the world of advertising like a roman candle. They were shooting sparks every direction and you just sensed they were going to be successful.
I think of Bob Willey who left Cole and Weber in the late 50's and was one of the first free-lance copy guys in the city. Young, smart and talented, he didn't start his business in the traditional manner. He moved into the narrow and confining top floor of the Tower Building. Today it might be called the penthouse. I thought he was a genius. There he was up there in the clouds doing magnificent work for clients he selected. I was envious. He later opened a new agency with Skogland, Friel, and Ware. They were a talked-about shop because they were brash and self-confident. So much so that they convinced their clients that the agency name should appear in all of their ads.
I think of John Brown. He walked into our Tacoma office and bluntly said, "I'm sick and tired of selling IBM equipment. I've always been captivated by the advertising business. I think I'm imaginative and I can write. I have no experience but I learn fast. I believe you should hire me." We did. And we quickly learned that he was a better writer and creative thinker than some of the people who had been in the business for years. John advanced rapidly in the free-flowing, any-thing-goes atmosphere of Cole and Weber. It wasn't too long before John was creative director in our Portland office. He closed out his career as a free-lance creative guru after many years of managing his own agency.
I think of Dick Hadley. He was the advertising manager of the Tacoma Mall, a Cole and Weber account. When I first saw Dick, he looked like he had just stepped out of a sophomore class at the U. But he had mature mind and always challenged the creative people to do nationally-recognized work. We hired Dick as an account executive. He was a superman when it came to ideas to help the client. I've never known anyone who had as much drive and perseverance as Dick. In the latter part of his career, he developed a very successful agency of his own, Hadley and Green.
I think of Bob Moore, who came to me as a young man and said, "All my life I have wanted to work for Cole and Weber. After getting this job, I'll never leave." I knew better but the risk was worth it. He turned out great work for us. Just as I thought when I hired him, he left for better things and became a whiz in Europe working on the Nike account.
I think of Denny Hinton, just out of the University of Puget Sound, Paul Cournoyer who I found tucked away in the basement of Cole and Weber doing fantastic art direction, Keith Campbell who grew like a watered flower once he was given the chance, and Chuck Pennington who came to the agency fresh, clean and full of youthful vitality.
These are some of the people who have proven you don't have to "get some experience and then come back and see me." My hope is that the agencies of the 2000's are keeping a watchful eye on the young talent. To overlook the Browns, Hadleys and Moores would be a tragic mistake.
I couldn't end this piece without injecting my own experience as a green pea, just out of the US Army, looking for my first job in advertising. I had a crew cut. I was in peak physical shape, after running every morning at Fort Benning. I was frightened about looking for a job, but I wasn't going to let them see me sweat. I carried a sample book of some ads I did for the University Daily, a few poorly done cartoons, and some UW football stories I had written as sports editor.
I interviewed with Bud Noren at SAFECO. He hired me as his assistant. From the moment I reported to work, he treated me like a partner. He gave me loads of responsibility. Right away I found myself working with the agency, Cole and Weber. The agency brought ads out for approval. I rewrote them. I was a terrible client. I learned a great deal from Bud. He was a fine human being. Honest. Straight-shooter. And very professional. He was my first mentor.
Dan Gerber was the senior account manager at Cole and Weber. If Dan said "Make the ad blue" you made it "blue." He was as firm as a fence post frozen in the snow. But he knew his stuff. Everyone respected Dan. For some reason he saw something in me and went to George Weber and said, "I want to hire Newsom and put him on the Weyerhaeuser account." George was negative. He thought I was a brash youngster who might mouth off at George Weyerhaeuser. Dan persisted and finally George met me and offered me a job— on condition. The condition was I would be reviewed in 60 days and if he found any negatives, he would fire me.
George never talked to me in 60 days and I stayed on at Cole and Weber for 33 years.
Everyone needs mentors to advance in the business world. I had Bud and Dan in my earlier days.
Hal Dixon came soon after. He was a Jackson Heights stick ball whiz, a cowboy, a fighter pilot, a polo player, a grammarian, a sports fanatic, an advocate for women's rights, a master runner, and the most complicated man that I have ever met.
He was also my mentor, my closest friend, my partner and the brother that I never had.

Hal Newsom and Hal Dixon.
Hal told me one day while we were discussing the future, "When I die I want to be playing polo with good friends, be ahead in the game and in the third chukker.
One day years later, shortly after Hal retired from Cole and Weber, he was playing polo in Victoria. His team was ahead 3 to 2, his daughter was riding on his team in the third chukker. Suddenly, he collapsed in the saddle and nearly fell off his favorite horse. He had a massive aneurysm and was rushed to the hospital. He died the next day.
That prediction was so characteristic of Hal. He had a fantastic ability to influence you, change your way of thinking and make you believe he had a God-like solution. I remember a presentation Hal was giving to Meadowbrook Bank in New York. It was an important presentation. We were trying to get our New York office off the ground. The president of the bank had been impressed with the work we did for Puget Sound National Bank and Rainier Bank. There were probably 15 full-page newspaper ads to be shown. Hal went through the first one. The president sat there with a light shining on his Phi Beta Kappa key. Suddenly he leaped up out of the spotlight and angrily said, " Don't you understand? You have Meadow Brook as two words. It's one word— Meadowbrook "
Anyone else but Hal would have collapsed on the spot, knowing there were 14 more ads to show, each with a mistaken identity. Quick on his feet, Hal explained the reason he had "purposely" split the name. His reasoning went something like this: "When your phone operator answers a call she doesn't say 'Meadowbrook Bank', she says "Meadow (PAUSE) Brook Bank. We do advertising that is natural to your business. We write like people speak. And we're very successful at it. The president twiddled his gold key and said, "You have a point there. Go on."
We got the account. But all the ads read Meadowbrook Bank.
Cole and Weber bought the Condon Company, a Tacoma agency that was managed by a solid, no-sense guy named Vic Kaufman, and a wild man named Hal Dixon who had the reputation of tearing up another person's copy that he didn't like. I worked for Cole and Weber on the Weyerhaeuser account. The two companies moved into the Perkins Building and just like two dogs sniffing one another the merger happened.
My encounter with Hal Dixon happened quite accidentally. I was working on a creative idea for Puget Sound Bank. I had paper all over my office. Dixon came in. I could tell he was curious. The more he peeked, the more I hid what I was doing. Finally, he snatched a piece of paper. It read, "George Weyerhaeuser saves $20 a month at Puget Sound Bank. (Bet you thought he didn't have to). He said, "Go for it.," and walked out. That was the beginning of a wonderful relationship and we became known as "The Two Hals." It existed for nearly 30 years. We were in sync with our beliefs about what constituted good work. But we were totally different in temperament and working style. He was the wing commander who would swoop in to attack a problem. I was the platoon leader who methodically advanced slowly to reach a solution. We recognized this and laughed about the differences in our personalities.
Later in our careers we had what might be called a suite of offices with a casual room between us. We spent more time writing ads on the couch that we shared than at our desks. We were both runners on weekends, entering several 10K's together. We didn't smoke and it annoyed us greatly in the days when people would enter our inner sanctum, light up a cigarette and let ashes drop all over the floor. An account man was working with us one day. He lit up and had no control over where his ashes went, mainly because there were no ashtrays. At noon Hal and I purchased a bag of unshelled peanuts, called him to meet in his office and managed to shell the whole bag and drop the mess on his floor as we talked. He quickly got the idea.
Ideas were everything with Hal. He loved a problem that needed to be solved quickly. The best example of a solution that came fast and had great success involved our client Wein Air Alaska. The advertising manager called one Friday afternoon and said they were announcing a fare reduction to Anchorage on Tuesday. They wanted an ad that would knock the socks off the competition. Hal and I headed for the couch. In a few minutes we were onto "Who could fly cheaper." A bird. An eagle. A goose. Immediately we had a photographer at Green Lake shooting a goose. That Friday night a retoucher put an old pilot's helmet on him. Monday morning we set a headline that read: "This is the only guy who can fly to Anchorage cheaper than you can." It was a big hit and the goose became an instant lovable character for the airline.
Dixon had infinite faith in women, probably because he had four daughters. He made sure Rachel Bard was the first woman vice-president of Cole and Weber. He gave Nadine Benson a chance to be a copywriter and later in her career championed her advancement into account work. He considered Joan Brown his pupil and was proud she could hold her own in the Seattle writing world. He once took a swing at a guy at a cocktail party because he thought the man was insulting a woman who worked for us.
But it wasn't only women he defended. He had favorites for whom he would go to battle at the drop of a No. 2 pencil. These included Jim Schulz, Dan Snope, Bob Tanaka, Tom McCarthy, John Brown, Denny Hinton and Larry Field---all extremely talented people.
Everyone who worked at Cole and Weber had a Hal Dixon story. He was a remarkable individual. He never stopped to smell the roses. He never let the wind blow to his back.
He walked into the tornados. He wore his title of Father of Creative with dignity and modesty. There will never be another man like him. Thank goodness.
---