Don McCune
Don McCune • Written May 2009 • Died March 1973

By Linda McCune
This bio is not about a girl born in 1948 but one written as the widow of one of the most beloved NW broadcasters, Don McCune.  Linda is in a unique position to write about him, not because she was his wife for 23 years before his death in 1993, but because she first saw him on television as a little girl in 1962.  She wrote fan letters for eight years, went off to the UW to study biology while working at the National Marine Fisheries at the Montlake Lab.  Although Don knew her as the little girl who wrote all the fan letters, he saw her while he was researching a fishing documentary at her lab.  They married in 1970 after her graduation, built a log cabin house in Woodinville and raised three children there.  Don left us way too soon from pancreatic cancer, but Linda continues to preserve and sell his written, radio and television works through the website www.donmccunelibrary.com.
                                                                         • • •
Don McCune, was the first child born to Edward and Grace McCune in Thief River Falls, Minnesota in on December 29, 1918. The family moved to Sterling, Illinois shortly thereafter. Brother Dale and sister Dorothe where born (1920 and 1922 respectively) and the family then moved to Aurora, Illinois. Several years later the parents gave birth to Duane and Donna.
Don excelled in reading and writing in elementary school, but he had a speech problem. His 5th grade teacher, Miss Cobern, helped to correct it by lessons after school and sending him to the lower grades to read from novels. Don often gave credit to Miss Cobern for his speech abilities.
In high school, he was named most likely to become a graphic artist. His art was legendary. But he soloed in several high school musicals and sang on the radio with big bands as well. He received a scholarship to the Chicago School of Art in 1937, but his parents couldn't afford the living expenses. Instead, Don hitchhiked to eastern Washington where his step-grandfather had a small farm. Don hoped to find a place to live and earn his keep. He worked there until joining the Civilian Conservation Corps in 1939 as a surveyor in the eastern Cascade Mountains.
Then World War II erupted and he tried to enlist twice but was rejected because of his flat feet. He moved to western Washington and worked at Todd Shipyards, while registering at the UW to take a radio broadcasting class.
His radio professor, Ted Bell, was also the manager of KRSC radio on 4th avenue south in Seattle, later to become KAYO studios. He recognized Don's deep voice and the command of the English language. After two weeks of school at UW, Professor Bell asked McCune, "Hey kid, are you here to get a four-year degree or are you taking my course to become a DJ." McCune replied, "I'd like to be a DJ, sir." Bell replied, "You've got a job if you come into tomorrow morning at 6 am. My morning man quit and the job is yours."
Don McCune found himself working with famed Leo Lassen broadcasting the Rainier Baseball games on KRSC and creating a morning show where he interviewed, among others, Ivar Haglund. After six years, he got the chance to become the station manager of KFAR radio in Fairbanks, AK. Midnight Sun GM August Hiebert hired him. This frigid area would prove to be fertile grounds for his talent.
At KFAR radio in Fairbanks, McCune created a number of radio series syndicated throughout Alaska including From Out of the North, Tundra Telegraph and many more. He also became the NBC radio and TV stringer for Alaska. He recorded the official version of the Alaska state song, The Alaska Flag Song.
In 1954, Al Bramstedt's Northern Television built KFAR-TV in Fairbanks. Don applied for the position of TV station manager. His one qualification…he had seen a TV set at his parent's house in Glendale, CA when he was there the previous Christmas. McCune was the only one in Fairbanks who had seen a TV, so he got the job as GM!
His first 'news' broadcast consisted of pointing the TV camera at the local newspaper, the Fairbanks News Miner, so viewers could read the paper on their TV. His next brilliant idea was to hire a shapely weather girl. (The weather in Fairbanks during the winter is pretty much the same every day…dry and cold.) She wore an off-the-shoulder peasant blouse and was required to lean over with the pointer on the map and talk about the weather in the Aleutian Islands! Every man in Fairbanks bought a television set.
Another creative stunt was to hire an old Eskimo woman for a refrigerator commercial where she held a tray of ice cubes; a takeoff on the old joke of selling ice to Eskimos!
He went on to create many memorable productions during his career at KFAR-TV until 1957 when he left for Seattle television. In 1991, he had occasion to be in Fairbanks so he stopped into his old stomping grounds at the TV station. Security wouldn't let him past the front desk, let alone talk to the station manager! I guess it's true that you can never go back!
In 1957, KOMO TV hired McCune to become Captain Puget. Station manager William W. Warren wanted KOMO's live children's show to educate the kids about local ecology, fire safety with Smokey Bear, Puget Sound maritime animals and plants, etc.




McCune was Captain Puget 1957-1966.
Freelance photographer Barney Furseth took the promotional stills for the Captain Puget Show and along with Mack Thomson shot short educational film segments.
In the first year of broadcast, 1957, Ivar Haglund played '1st Mate Salty'. His restaurant business demanded too much time, so director Frederick Lloyd (Lloyd Bloom) became 1st Mate Salty until the end of the series in September 1966.
Station manager Bill Warren was the epitome of a responsible broadcaster. He believed the medium of television should be used to educate and inform the viewers. That is why the live children's show he created was not about slapstick comedy but about teaching while entertaining.
In 1960, KOMO GM Warren created Exploration Northwest, a documentary series that Don McCune would write, host and narrate over 400 episodes for the next 21 years. The series won 26 Emmy Awards for documentary excellence. They documented, gold mines, historic trails, Indian cultures, early explorers, old logging camps, sailboat adventures, off-road auto rallies, horseback trips, fishing, antique airplanes and so very much more.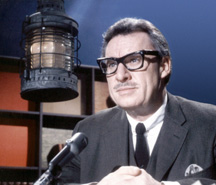 McCune wrote and narrated over 400 Exploration Northwest episodes 1960-1981.
Over those 21 years these talented people, listed in alphabetical order, would serve as staff on the Exploration Northwest series:
Producer/Director
Tim Bullard
Ed Lackner
Richard Morse
Bob Ryan
Joel Schroedel
Camera/Editor
Darrell Benedict
Joel Schroedel
Ed Sierer
Gary Smith
Tom Welty
Camera
Bill Bacon
Bob Brown
Mike Brown
Tim Bullard
Dick Cornwell
Duane Davis
Chuck Fey
Barney Furseth
Willard Hatch
Pat May
Fred Nelson
Bob Ryan
Audio
Fred Boor
Jack Frost
Barbara McKenna
Chris Raaum
Rudy Schroeder
Exploration Northwest was filmed in Washington, Oregon, British Columbia and Alaska with a few segments in Yukon Territory, Idaho, Montana, Wyoming, and northern California when the trail led there. The above named talented people that assisted over the 21 years added so much to each production. Don was a real outdoorsman and a fantastic writer who was born with an announcer's voice. It was those talents that gave the continuity to the series and kept it in the number one rating spot all 21 years. With his background in radio, Don began his broadcast career writing scripts that had to create a verbal image to the listener. His television scripts were written the same way. He didn't tell the viewer what they were watching…they already knew. Instead, Don's wonderful prose embellished the video. In fact, a local boating magazine published his boating TV scripts as short stories for the many years as local boating adventures.
From 1960 to 1981 while Exploration Northwest was produced, no serious accidents happened with the Don and the film crew. Remember, they hiked into the backcountry, camped and carried all their supplies. Often they were thirty miles or more from any human contact and in bear country. They had no cell phones. Even the KOMO TV van parked at the trailhead was not allowed to have a CB radio in it. That would be in conflict with commercial broadcast radio (KOMO).
From 1960 to 1975 Don McCune was also the host of a KOMO TV public service series called Challenge. It featured discussions among a rabbi, priest and minister pertaining to moral and social issues of the day. KOMO TV station manager, William Warren created this series also, in keeping with his mantra that the medium of television should be used to educate and inform the viewers.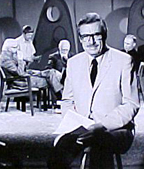 McCune was the host of Challenge 1960-1975. Panel seen are:
Rev. Oscar Rolander, Rabbi Raphael Levine and Father William Treacy.
Challenge was far ahead of its time. In 1960 the Jewish, Catholic and Protestant churches did not official speak to each other. KOMO GM William Warren was a Protestant, but in 1960 he was concerned that the nation was upset that a Catholic, John Kennedy, dared to run for president. Would the whole nation have to become Catholic the media queried? Warren was incensed. Thus, he created Challenge, far ahead of the Ecumenical Council, to educate the public about the three major religions in the United States at that time.
Rabbi Raphael Levine and Father William Treacy represented the Jewish and Catholic faiths all 15 years that Challenge was broadcast on KOMO TV. Three Protestant ministers participated (in chronological order) including Dr. Lynn Corsen, Dr. Robert Fine and Pastor Oscar Rolander. The series was produced by Marty Camp Wilson and directed by Ken Ritchey.
It was Don's job to introduce the topic of the discussion and the three clergy. He would close each of over 700 broadcasts with, "We hope the words of these gentlemen will help you as you face your individual Challenge." Imagine this on commercial television today! In this one sentence, the demise of commercial television is reflected. Sadly only a few broadcasts were saved of the Challenge series, but watching them recently, I was struck with how pertinent the words were even today.
Rabbi Levine and Father Treacy became lifelong friends and sponsored the building of a non-denominational retreat called Camp Brotherhood north of Arlington, Washington. It's an active center today. The William Warren family donated funds to build a new meeting hall recently on the Camp Brotherhood grounds.
In 1981, William Warren retired from KOMO TV and the new GM refused to fund Exploration Northwest series because of the high costs. His budget money would go into increased news production. Don McCune was retained as an employee to write three-minute historical vignettes for the new magazine series PM Northwest. It wasn't anywhere near as challenging as Exploration Northwest and Don was bored.
He applied for and won the contract to do promotion of the Evergreen State Fairgrounds that year and worked until September 1992 when he resigned to finish several other projects. On December 20th, 1992, he went to the doctor because he said he didn't feel right. On the 29th, he was diagnosed with pancreatic cancer.
He continued working, including flying to Fairbanks to emcee the native and Eskimo celebration. He had been the requested speaker and he was determined to go. He returned from Fairbanks on Sunday, and died the following Saturday on March 27, 1993.

There was a private service and burial. Our Lutheran pastor officiated at both. But at the burial, a member of the Duwamish tribe performed a Native American burial ceremony. Don would have liked that. There was also had a huge public celebration on April 3, 1993 at the Museum of History and Industry where our son Clint emceed and his brother Zane and sister Grace performed several music selections as a tribute to their father.
Linda McCune created The Don McCune Library shortly thereafter and began making available his bounty of historical work created in his 50 years on the air (1943-1993) available for sale on DVD, which continues to do to this day.
---